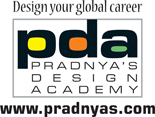 Average Vendor Rating
Enrol for below courses through youngbutterfly.in and get Discount of 200/- (Registration Fee)
For over two decades, Pradnya's Art World has been at the forefront of design entrance exam coaching. Whether you aspire to be an architect, a fashion designer or a commercial artist, Pradnya's Art world provides complete coaching for all major entrance exams including NID, NIFT, NATA and UCEED among others.
Till date, over 2000 students have successfully appeared for NID, NIFT, NATA and UCEED from Pradnya's Art world. Many more, from our academy, have cleared their Elementary and Intermediate art exams with flying colours.
Through the numbers and statistics, we have always maintained our goal of smaller batches and greater individual attention. A student of Pradnya's Art world can choose the batch timing that suits him / her best. Our flexible batches run 6 days a week from morning to night, thus suiting everyone from a college goer to a working professional.
Pradnya's Art world centre is well stocked with art equipment and LCD screen for coaching. Our students have unlimited access to books and study material for NID, NIFT, NATA and UCEED entrance exams. We believe in guiding each of our students to the point that they can fly on their own.
Pradnya's Art world stands by its goal of 'Art for All' and thus we have made all of our course material available online. Those who stay far away can register and purchase the syllabus and study material and even get their assignments checked by our expert faculty via email.
Under the guidance of our founder Pradnya Bhusari and with the commitment of our faculty our students have gained admission and successfully passed out from top Art and Design colleges including JJ School of Arts, NID, NIFT, Pearl Academy, DSK, ISDI and Rachna Sansad, to name a few.
We at Pradnya's Art world understand that for some art may not be a career but rather a hobby. By popular demand we have separate batches for oil painting, portrait, watercolour, traditional painting and pencil and charcoal shading.
The music division of Pradnya's Art World goes by the brand 6th String Guitar & Drums Classes. Functional for the past 12 years and after training more than 3000 students, we are the perfect coaching avenue for Trinity & Rockshool of London grade examination training.